Meet our staff at Hal Dental Office.
In our office, all the dental hygienists acquire national qualifications to take care of patients.
Ishigaki (Chief hygienist)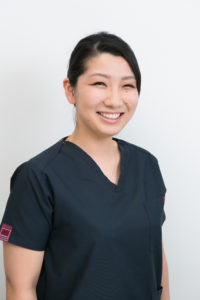 [Hobby] Watching baseball game
[Strength] Have a strong sense of responsibility
[Weakness] Bottle everything up inside
[Quote] I want to be in patients' side.
Please talk to me about anything. I will welcome patients with smile!
Katou (Sub-chief hygienist)
[Hobby] Travel
[Strength] Stick with my solution
[Weakness] Indecisive, negative thought
[Quote] Do not hesitate to consult us regarding tooth brushing! Let's do our best!
Miyamoto (Hygienist)
[Hobby] Listen to live music, travel, outdoor activities, camera
[Strength] Good with details and attentive
[Weakness] Too serious, stubborn
[Quote] I want to provide oral care customized to each patient to help him/her enjoying eating with own teeth for life. I hope I can give comfort to patients.
Hirobe (Hygienist)
[Hobby] Eating around
[Strength] Cooperative, curious
[Weakness] Worrier
[Quote] I will make this clinic cozy for patients with my smile and friendly service!
I'm doing my best every day to help patients keeping their mouth healthy!
Kadota(Hygienist)
[Hobby] Karaoke
[Strength] 明るい 人を話すことが好き
[Weakness] 負けず嫌い
[Quote] いつでも笑顔で患者様に寄り添えたらと思います。患者様の歯の健康をサポートします!
Nakazono(Hygienist)
[Hobby]Eating sweets around
【長所】明るい性格
【短所】落ち込みやすい
【一言】患者様と一緒に歯の大切さを知っていける様に、そして守っていける様に親身になってお手伝い出来ればと思います。
Jones(Hygienist)
[Hobby] アクセサリー作り、ゲーム
[Strength] 冷静なとこ
[Weakness] 影響されやすいところ
[Quote] 患者様一人ひとりに寄り添う対応を心がけ、歯科と患者様の架け橋になれるようサポートしていきたいです。