Meet our staff at Hal Dental Office.
In our office, all the dental hygienists acquire national qualifications to take care of patients.
Ishigaki (Chief hygienist)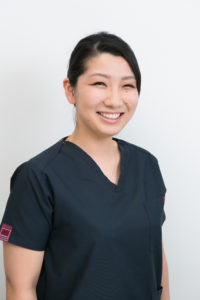 [Hobby] Watching baseball game
[Strength] Have a strong sense of responsibility
[Weakness] Bottle everything up inside
[Quote] I want to be in patients' side.
Please talk to me about anything. I will welcome patients with smile!
Kadota (Sub-chief hygienist)
[Hobby] Karaoke
[Strength] I like talking to people
[Weakness] hate losing
[Quote] I want to be close to the patient with a smile at any time. Supports patient's dental health!
Nakazono(Hygienist)
[Hobby]Eating sweets around
[Strength]bright personality
[Weakness] Easy to drop
[Quote] I would like to be able to help you with your patient so that you can know the importance of teeth and protect them.
Aihara(Hygienist)
[Hobby] movie
[Strength] positive thinking
[Weakness] Indecision
[Quote]I want to make many people smile through dentistry. I will do my best to make you think "I want to go" and "I was comfortable"!
Ota(Reception)
[Hobby] Outgoing
[Strength] Serious and honest.
[Weakness] I can't see the surroundings when I concentrate
[Quote]Receptionist and assistant.I can't do it directly, but I'll do my best to make you feel safe and to say that you're happy to come to our hospital!